Activities and Achievements in 2019-20
Research
The department is approved as a PhD Research Centre in 1995. Mphil Program was started in the department in 2015. So far 35 Scholars have passed Mphil from the center. The department of economics, while celebrating the Silver Jubilee of its Research Centre, three faculty members – Prof. Siby Abraham, Prof. Agile Joy and Prof. Madhusudhanan Nair M S were awarded PhD. In addition, nine research scholars of the department- Revathy K sivadas, Ramya Rajan, Ibrahim Cholakkal, Vandana Aravindan, Renu Susan Samuel, Vidhu Johnson, Vinitha K B, Parvathy S, Jincy Joseph K were also awarded PhD this year. Two scholars have submitted their thesis this year. Seven Scholars have been awarded Mphil degree this year. Over all 53 scholars were awarded PhD and 35 were awarded Mphil from the Research Centre in Economics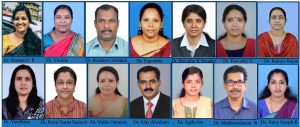 ---
Department Fest "Artha"
The department Fest ARTHA conducted from 24-25th January 2020 to create awareness about the need of sustainability attracted media attention. As part of ARTHA students created an installation regarding plastic pollution of oceans and conducted the "The Green Act" workshop on sustainability in collaboration with an NGO BHAVA INDIA in addition to regular competitions. Students also conducted an exhibition fully dedicated to the theme of sustainability. A video is also there.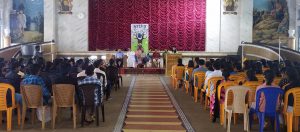 ---
Student Achievements
Ashly Noushad of VI Semester B A economics attended Asia Youth Model United Nations Conducted by Food and Agricultural Organization and presented a Paper on Food Crisis. Lija Mary K J got first prize and Cash Award in the essay competition conducted by Kerala Forest Department. Gopika Menon of IInd semester B A Economics got First prize in business quiz conducted by St, Teresas College Ernakulam. S R Santhini got III prize in "The Economist" Competition conducted by Assumption College Kottayam. Students of Economics Department was the runner up of the Interdepartmental competition conducted this year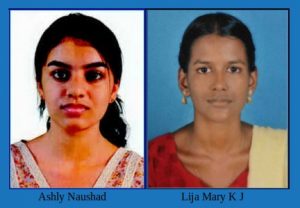 ---
Outreach And Extension
The Department has an Outreach program JANAPARVAM. All the outreach and extension activities are organized under the JANAPARVAM. This year Orphanage visits and a program of distribution of artificial limb were organized. Artificial limbs were distributed among 100 needy people all over Kerala in collaboration with Rotary Club and Muthoot Group.

---
NET/JRF Winners
Nine students Salma Sherief, Megha Susan Philip, Devapriya Anand, Aneeta Grace G, Kiran M Dharan, Aparna Menon, Devika Gopan, Radhika D, Athulya T S have qualified UGC NET.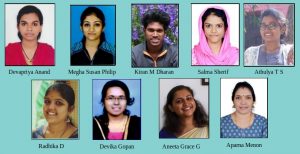 ---
Dhishana
The department of Economics has launched a new program DHISHANA this year to cultivate research attitude and presentation skills among the students. Dhishana is a platform for presenting papers on a regular basis by both students and teachers on any area of research in economics especially matters of current importance.

---
Alumni Meet – Anaswaram
The department of Economics being one of the oldest Economics departments in the state, is having a strong Alumni association. The alumni association is undertaking many activities for the benefit of the society such as financial support to cancer patients, support to financially weak students and instituting Endowments, scholarships and Awards. The Annual General Body meeting is conducted on 2nd October every year. This year the Alumni has undertaken the task of building one floor in the new campus building under construction in the Eastern side of the campus.
---
Farm Tourism
The members of the department have visited the farm Tourism location MANGO MEADOWS

---
Gandhi Jayanthi Day
Cleaning the department on Oct 2nd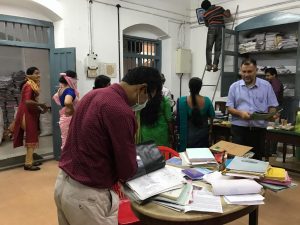 ---
Visit to the department by retired faculty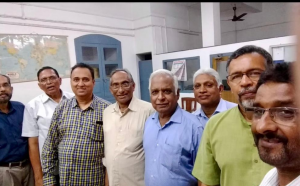 ---
Paper Publication by Students In International Journals
Bajracharya, S., & Raju, K. V. (2020)"Tourism Development in Nepal: Prospects and Challenges", International Journal of Emerging Technologies and Innovative Research (www.jetir.org), ISSN:2349-5162, Vol.7, Issue 1, page no.101-105.

Link to website

.
Philip, M. S., & Raju, K. V. (2020) "Exclusion of Transgenders and Microfinance as a Means to Achieve Universal Inclusiveness: with spacial reference to Kerala, India." IOSR Journal of Humanities and Social Sciences, 62-65. E-copy.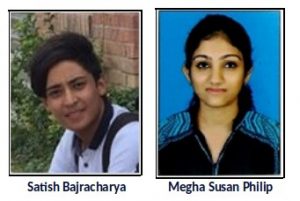 ---
Gratitude and Appreciation to Dr. K V Raju
The students of Department of Economics organised a function to thank Dr. K V Raju, as he retires after 30 years of teaching. Dr.Raju is currently the Dean of the Humanities and Social Sciences. Dr.Raju was the Head of the Department of Economics from 2004 – 14. He was also the College Council secretary for the period 2004 – 05. Dr.Raju also was the Member Secretary of the Academic Council for the period 2016 – 19.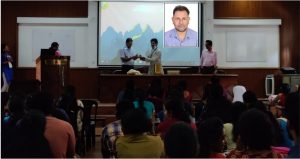 ---